NEWS & EVENTS
HUNDESTED PROPELLER PURCHASE OCEAN MARINE SYSTEMS
24 April 2023
Hundested Propeller is delighted to announce the acquisition of Ocean Marine Systems Ltd (OMS) and with immediate effect welcomes the UK organisation as a subsidiary.
For over 100 years, Hundested Propeller has been a manufacturer of marine equipment and today they supply complete controllable pitch propulsion systems, marine gearboxes, thrusters and sail drive solutions. The purchase of OMS will increase the thruster range available to customers and OMS will continue their successful range of hydraulic cylinders and through-hull instrument deployment systems used in underwater security and seabed mapping applications.
The former owners of OMS, Daniel Wilson, Mark Barwell and Ian Crowden will continue the management in the UK in close cooperation with the Hundested organisation in Denmark
"The ability to knowledge share between the two companies is an exciting opportunity for everyone. We have very complementary strengths and skills," comments Mark Barwell Sales Director for OMS.
Dan Wilson, OMS Managing Director commented about the new ownership that "There is already a very strong synergy and good communication between Hundested Propeller and OMS. We are firmly convinced that through this new ownership, we can give our customers the certainty and security of supply by leveraging the infrastructure and best working practices now available to us."
"We are impressed with all we have seen, and we are very much looking forward to uniting our resources, knowledge, and competencies to provide a better propulsion offering to our customers" comments Morten Madsen, CEO of Hundested Propeller.
Hundested Propeller is part of the BSI Group of companies which includes BSI, Easy, GORI Propeller, Jefa Steering, Moonlight Portlights and Hatches, OYS and now OMS. The group manufactures specialist marine equipment for the sailing yacht and commercial marine market. The Group provide rigging, hatches, portlights, blocks, steering systems, propulsion systems, thrusters, folding propellers, hydraulic cylinders, and through-hull instrument deployment systems through a network of worldwide service agents and service centres.
Information on OMS can be found www.oms.ltd.
Information on Hundested Propeller can be found www.hundestedpropeller.com.
Information on the group can be found at www.bsidk.com.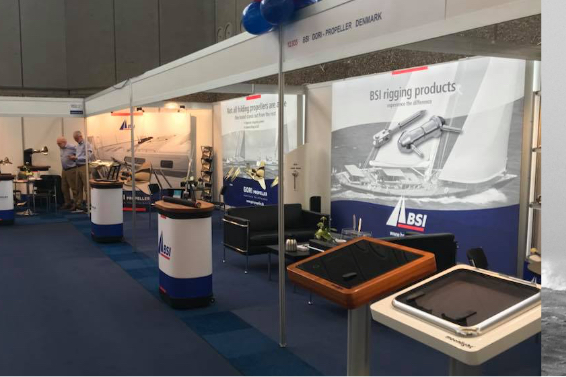 Trusting Mother Nature to carry you safely across the seven seas is a lot easier with top of the line components on board.
Specialist maritime equipment
We design, manufacture and market specialist equipment for cruising, racing, and super yachts. Our goal is, and has always been, best-in-class products with the strength to handle anything a raging sea can throw at them, without compromising control or speed.