NEWS & EVENTS
HUNDESTED PROPELLER LAUNCH ENERGY EFFICIENT PITCH CONTROL UNIT
3rd April 2023
Hundested Propeller expands pitch control unit range by introducing a new hydroelectric model, the FR-ELH, to meet the needs of superyachts (sail and motor) and workboats.
The Pitch Control Unit is a compact unit and part of a Controllable Pitch Propulsion and Regeneration Solution available from Hundested Propeller. It's designed for shaft line setups and suitable for a direct electric drive or installation aft of a standard reduction gearbox without pitch control.
Rune Græsdal Zilcken, Sales Manager for Hundested Propeller explains the benefits of this new model for those installing and servicing the unit. "The unit is the same size as the existing FR-HP model and therefore easily interchangeable. It comes with low energy consumption as it can hold the propeller pitch without consuming power. It is a standalone installation, and the only connections are 24V and three wires for feed-back signals. The requirement for constantly running hydraulic pumps and motors is eliminated and external tanks are no longer needed, resulting in the complete installation being significantly quieter and with reduced energy consumption."
The designers at Hundested Propeller have taken proven elements and listened to customer feedback on what works and what more is needed. The FR-ELH comes with improved mounting points making it simple to dismount for servicing without losing the alignment of the propulsion line.
The FR-ELH, which is for Feathering Reverse-Electrohydraulic, is specifically designed for electric propulsion and regeneration using Controllable Pitch Propellers. It can be used for direct electric drive or with a standard reduction gearbox.
The FR-ELH is currently available in one size the VP3-VP4 with the VP5- VP7 in development. The upcoming series will also have an option for a built-in reduced RPM for fast spinning electric motors.
The shaft line Pitch Control Units all have built-in thrust bearing, long stroke for feathering propellers and can be delivered with semi-flexible foundations for very low noise and vibration transmission. Unit one of this model was delivered in December 2022 for installation in early 2023. It has been manufactured for an 88-foot sailing yacht with direct electric drive and power regeneration.
For more information, please contact our sales team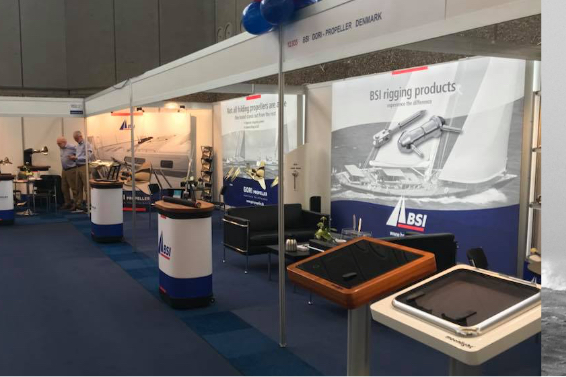 Trusting Mother Nature to carry you safely across the seven seas is a lot easier with top of the line components on board.
Specialist maritime equipment
We design, manufacture and market specialist equipment for cruising, racing, and super yachts. Our goal is, and has always been, best-in-class products with the strength to handle anything a raging sea can throw at them, without compromising control or speed.